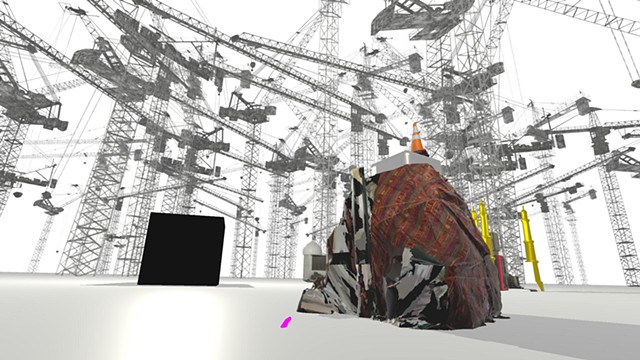 Cranes and Cube, VR, 2018
Asma Kazmi is a research-based artist who combines virtual and material objects to explore simultaneity — a tug of more than one time and place. Her work involves long term engagement with cities, architecture, plants, animals, stones, and other matter to locate vestiges of relations forged by the legacies of colonialism and post-colonial contexts.
Combining visual and textual detritus from western and non-western historical manuscripts, photographs, archival material, fragments of locations, and mixing them with her own fabulations, Kazmi tells intertwining stories about Islam, Muslim culture, complex trade routes, global flows of people and commodities, labor, colonial and indigenous knowledge systems, and interspecies entanglements.
Kazmi was born in Quetta, a city in Pakistan, near the border with Afghanistan. She works between the US, India, Pakistan, China, Europe, and the Middle East to create installations that are legible in various cultural contexts.
Asma Kazmi's selected exhibitions include: Bi-City Biennale of Urbanism/Architecture, Shenzhen, China; San Francisco Art Commission Gallery, San Francisco; the Espacio Laraña, University of Seville, Spain; the Commons Gallery, University of Hawaii in Honolulu; Faraar Gallery, Karachi, Pakistan; Elaine L. Jacob Gallery, Wayne State University, Detroit; Wattis Institute of Contemporary Art, San Francisco; San Jose Institute of Contemporary Art, San Jose, CA; Utah Museum of Contemporary Art, Salt Lake City; Queens Museum of Art, NY; H&R Block Space, Kansas City; The Guild Gallery, New York; and Galerie Sans Titre, Brussels, Belgium; LACE (Los Angeles Contemporary Exhibitions); 18th Street Arts Center, Santa Monica; Contemporary Art Museum, St. Louis; Gallery 210, University of Missouri St Louis; MassArt Film Society, Boston; Hunt Gallery, Webster University, St Louis; and Gallery 400, University of Illinois in Chicago.
Kazmi is the recipient of many grants including the Townsend Fellowship; the Hellman Fellow Fund award; the BCNM Seed Grant; Al-Falah Grant; the Fulbright to India; Faculty Research Grant, CalArts; the Great Rivers Biennial Grant, Contemporary Art Museum St. Louis; the Rocket Grant, Spencer Museum of Art at the University of Kansas; and the At the Edge: Innovative Art in Chicago, Gallery 400, University of Illinois in Chicago.
Kazmi is currently an assistant professor in the Department of Art Practice and the Berkeley Center for New Media at UC Berkeley. Previously, she was permanent faculty and co-program director of the Art Program at the California Institute of the Arts in Los Angeles.